Read another article:
Theatre of dreams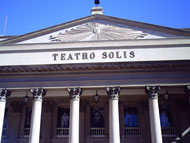 BrazilianLiving to appear soon
Interested in real estate and expat life in Brazil? Looking for practical information on buying a second home or making the most of your stay in the country? UruguayNow's sister site, BrazilianLiving.com will go live in November.
And the winner is… Results of the UruguayNow awards for 2010
They may not quite be the Oscars, but UruguayNow has its own awards, six in all, for 2010. We hope that our pale-blue certificates (sorry, but there are no shiny gold statuettes for the moment) will serve as a recognition of excellence in the country's hotel and restaurant sectors. The research was carried out between December 2009 and March 2010. Journalists requiring more details of the selection and award criteria should mail Nick Foster, publisher of UruguayNow at [email protected]. The awards ceremony took place at the headquarters of Uruguay's National Tourism Ministry in Montevideo on 13 April 2010. Our thanks go to the Ministry for their precious support of the UruguayNow travel guide project. The award winners are:
Best-Value Hotel in Montevideo: Regency Golf, Punta Carretas
Best Business Hotel in Montevideo: Sheraton, Punta Carretas
Best Restaurant in Montevideo: Francis, Punta Carretas
Montevideo's Most Innovative Dining Experience: Rara Avis, Ciudad Vieja
Best Boutique Hotel in Punta del Este: L'Auberge
Best-Value Boutique Hotel in Punta del Este: Posada Aldilá
You can find out more about these establishments by visiting the Montevideo restaurants, Montevideo hotels, and Punta del Este hotels chapters of the guide.
Our top web picks
Not yet made it to Uruguay? When you're done with UruguayNow, our choice of the top 6 internet resources for the country is just a mouse click away. In no particular order, they are:
Ola Uruguay: www.olauruguay.com
Mercopress: http://en.mercopress.com/
Benjamin Gedan's Small State: http://benjamingedan.blogspot.com/
Retired in Uruguay: http://wallyinuruguay.blogspot.com/
Uruguay Natural: www.uruguaynatural.com
Global Property Guide: http://www.globalpropertyguide.com/Latin-America/Uruguay
For reviews of these sites, please click here.
UruguayNow in the press
UruguayNow's mix of travel and tourist information on Uruguay, hotel reviews for Montevideo and Punta del Este (coming soon for Colonia), restaurant reviews and tips on excursions, sightseeing and lifestyle in Uruguay has been featured in El País, La República, MercoPress and on Uruguay's Channel 5 TV and other news media in the country. Look out for features on cinema and movie-making, estancia tourism, Uruguay's best beaches and Uruguayan wine (and tips on the best bodegas to visit) in our next edition in October 2010. Journalists interested in finding out more about our Uruguay travel guide project should mail [email protected].

The UruguayNow Interview: Karen Ann
In a journey from a small mining community in South Wales to Montevideo, by way of Buenos Aires and Washington DC, Karen Ann has become a fixture of the local music scene, first as a singer with Celtic group Grianan, then teaming up with one of Uruguay's most famous guitarists to start her own project, Trelew.
First of all, why Montevideo?
We [Karen, her partner and son] had previously been living in Washington and what interested us about Montevideo was that there were a lot of similarities that we really liked, such as the size of the city and the population. We liked small cities that are capitals as well because there is a certain amount of culture. The other thing that I really appreciated was that you can easily get out of the city. You don't have to go through a lot of traffic to get to the beach and to the countryside. I came here for a week to check it out and fell in love with the place.
Had you been involved with music before arriving here?
Prior to coming here I had never done anything that was related to Celtic music apart from when I was at school, and when you're Welsh that is a huge part of your upbringing. In the Eisteddfod, a musical competition, you'd be encouraged to sing, or do some poetry or art. It was something that I did as a kid, together with all my friends. Even people who felt that they couldn't sing would get up in the choir and do something, and you'd be doing it in front of more than a thousand people, so that was brilliant training.
How did you get involved in the music scene here?
When I came to Uruguay I really started to feel like I was losing my voice, so I decided to take voice classes gain. I went to a teacher, a great guy called Fernando Ulivi, who is well known here in theatre circles. I really enjoyed it and wanted to do more. I remembered that a few months earlier I had seen an Irish-music band playing. They were Uruguayan but they sounded completely authentic and I thought: this is amazing! So I found their number and they said they already had a singer. I said that's fine, I'll come anyway, there can be two of us! It makes me laugh now because I was quite brazen and was muscling in, but I really wanted to sing. And so I went and auditioned and they said okay, you can start. That's how I became a member of Grianan.
At what point did Trelew begin to form?
Grianan was great but I wanted to do something more creative and their project was basically cultural. It was about showing people what Irish music is. I told them I wanted to put my energy elsewhere and set about looking for a guitarist. I imagined a young musician from the faculty might be interested. I started to ask friends, and I was about to stick some ads up in the University when Fernando Ulivi, my old voice coach, called and said that Jorge Galemire might be interested in the project. He has played with Eduardo Mateo and Jaime Roos – some of the greats. When I also found out that he counted Celtic music as one of his biggest influences, I couldn't believe it! We met and seemed to like each other, and it went from there. Initially he [Jorge Galemire] was cautious about getting involved because of his lack of Celtic heritage. He said that he wouldn't pretend to be an Irish musician; he would give it his own stamp while trying to respect the forms. So it was a fusion of this woman from Wales and this Uruguayan musician who is known for music from another genre.
And where did the name come from?
I decided I wanted to associate the band with something that was Celtic or Welsh and, at the same time, something that was from this part of South America, so I thought about the names of those towns [in Argentine Patagonia] that were started by Welsh people, and Trelew I liked the most.
Where do the ideas for the songs come from?
When we started composing it was the first time since I was a teenager that I had written lyrics. The first song that we did was called For Patagonia and it's about the journey of the Welsh to Patagonia and it starts with some words from a diary that was written in 1893 by a Welsh colonist. In Wales at the time they were trying to encourage people to emigrate to Patagonia, but also to protect their own culture, which was not happening when people emigrated to [North] America.
Was Welsh history something that you'd always been interested in?
When I was 7 years old I had a teacher who had been a sailor and one of the places he told us about was Buenos Aires and the gauchos. I was fascinated. We have a song called May Day which is based on the story of my grandmother who lived in a mining community. Her dad had been in a mining accident and couldn't work and so they depended on the charity of the church. My Nan [grandmother] was a really good singer and the choirmaster had told her parents that she was so good, if she took singing lessons she might become an opera singer. But there was no money and my Nan ended up being a barmaid. That was a kind of debt within the family. She always used to say that she could have been a famous opera singer. So to have the opportunity to write a song for and about her was great.
What's the plan for the rest of the year?
We are going to do just a few shows. Our focus is to do more distribution internationally. We've already had people buying from Japan. The market here is very small and what we do is quite unusual. We could easily saturate it, so the plan is just to do a couple of well-produced shows.
Factfile: Trelew will be playing at Teatro Solís on 5 May with their 5-piece live band, including bandoneón (an accordion-like instrument, famously used in tango music), bass and percussion. Their album, Trelew, is available from Shannon's in Montevideo, www.cdbaby.com, and Karen will even hand deliver a copy if you ask nicely enough. Her details are on their website at www.trelewmusic.com.
Karen has also recently opened a guest house, Casa Sarandí (Buenos Aires y Ituzaingó, Old Town). The rate is US$60 per night. Rooms have balconies looking on to the sea. Reservations can be made at [email protected].